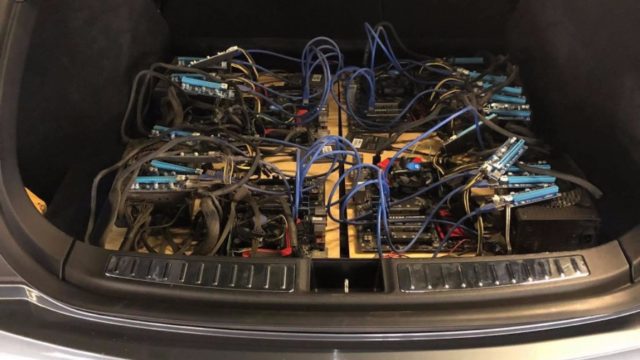 Cryptocurrencies are the new money, and many websites are trying to mine them through people's web browser.
In some cases, the crypto mining continues even when people close their web browser. And why not? Everyone would want it when the prices of Bitcoin have surged past $10,000.
After taking suggestions from Tesla Owners group user,
a man with a Tesla Model S came up with an innovative approach
to
mine cryptocurrency
and
eliminate
one of the main hurdles –
huge electricity bills
because of processing. He managed cost-cutting by fitting a mining setup in his Tesla car and taking
free electricity from a Tesla Supercharger.
"The shared image of the cryptocurrency mining setup quickly became popular on the Tesla Owners Facebook group" However, what gathers attention here is it really worth it.
According to Motherboard's calculations, if the setup is used to mine Etherum, the monthly earnings would be almost equal to the monthly lease of the Tesla car (around $675).
So, if someone wants to try the same and buy a new Tesla, it doesn't seem to be a good idea at all. It would take years of non-stop mining to recover the cost of a Model S if Tesla does not have any objection to the special use of the Supercharger.
Also, the mining would generate a lot of heat inside the car, and the battery might suffer due to prolonged usage. So, the approach seems good only in stories.
What are your thoughts about this mining experiment? Drop your thoughts and feedback.